For more than 100 years is Agro-Belts specialist in producing webs for agricultural and horticultural machinery. More and more our webs are also used in other sectors, eg fisheries and industry. We consider it our duty to constantly look for new production techniques and possibilities for the applications of our products. On our site you can find almost all the possibilities in the area of ​​webs , driving wheels , support rollers and accessories. Naturally, we remain open to new developments. We have striven to make this information user-friendly in order to give a clear picture of the phraseology used by Agro-Belts.
Standard coding
In the world of webs occur countless possibilities . In order to clearly define a web , Agro-Belts makes use of a standard coding. It contains only the definition of a standard sieve belt .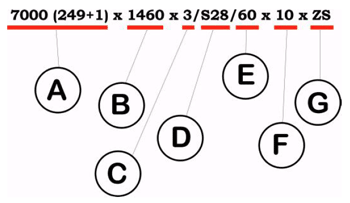 A  length in mm (number of rods, +1 = joiningrod)
B  width in mm
C  Number of belts
D  Type of belts and pitch
E  Width of the belts
F  Type of rods and diameter
G  Type of joiner
Further details of a web are listed separately below.