Rubber Flights (RM)
To transport the product at steep angles we have rubber flights (RM) in 9 different heights. Because of the functional design of these flights they can be assembled to every pitch. When the flight is not fitted tightly between the traction belts, its back will be cut out to fit a cable grip. This prevents the flight from moving sideways.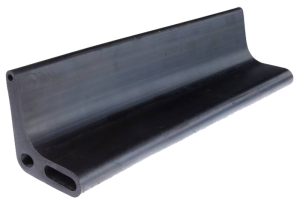 Plastic flights (KM)
Weight saving and wear resistance are the keywords with the flights type KMP. This synthetic flight was especially designed to fulfil these two requirements. KMP flights are 160mm wide and available in 3 heights. These flights are in 2 parts and therefore they can be mounted very easy on existing sieve webs.