Joining clips are designed to fit the different pitches and belt width. In order to clearly define a specific joiner, Hessels makes use of a standard coding.

A: Type joiner
B: Pitch
C: Belt width
D: C.T.C. distance of the rivet holes
E: Diameter of the rivet holes
Joiner type ZG
Heavy duty joiners out of spheroidal iron for very rough conditions.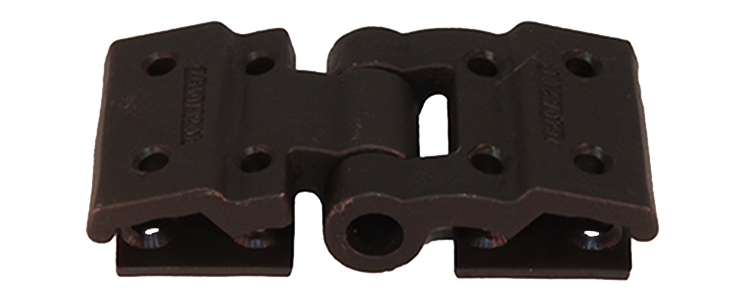 | Type | Product number | Includes |
| --- | --- | --- |
| SLZG36/60/32×6 Joiner | 3170-06707 | per pair including back plates |
| SLZG37/60/32×6 Joiner | 3170-07762 | per pair including back plates |
| SLZG40/60/32×6 Joiner | 3170-07218 | per pair including back plates |
| SLZG42/60/32×6 Joiner | 3170-06871 | per pair including back plates |
| SLZG43/60/32×6 Joiner | 3170-06877 | per pair including back plates |
| SLZG45/60/32×6 Joiner | 3170-06581 | per pair including back plates |
| SLZG50/60/32×6 Joiner | 3170-07361 | per pair including back plates |