Joining clips are designed to fit the different pitches and belt width. In order to clearly define a specific joiner, Hessels makes use of a standard coding.

A: Type joiner
B: Pitch
C: Belt width
D: C.T.C. distance of the rivet holes
E: Diameter of the rivet holes
Joiner Type ZDL
Welded joiners like the SLZL, but these joiners have an adapter(TSZDOL), so 2 joining rods are needed.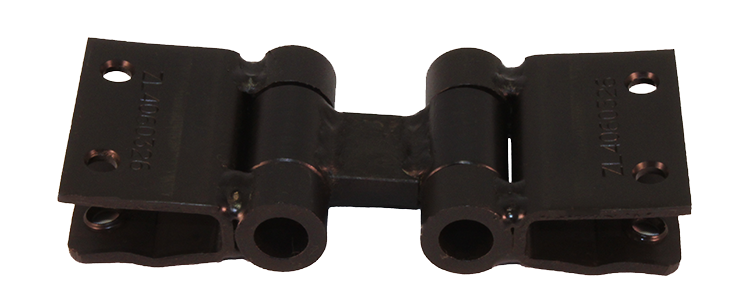 | Type | Product number | Includes |
| --- | --- | --- |
| SLZDL28/40/20×5 Joiner | 3030-07444 | Per pair including pivot |
| SLZDL28/50/20×5 Joiner | 3030-08251 | Per pair including pivot |
| SLZDL28/50/24×5 Joiner | 3030-10855 | Per pair including pivot |
| SLZDL28/60/32×5 Joiner | 3030-07440 | Per pair including pivot |
| SLZDL28/60/32×6 Joiner | 3030-07651 | Per pair including pivot |
| SLZDL30/50/20×5 Joiner | 3030-10260 | Per pair including pivot |
| SLZDL30/50/24×5 Joiner | 3030-07624 | Per pair including pivot |
| SLZDL32/60/32×5 Joiner | 3030-08194 | Per pair including pivot |
| SLZDL36/50/20×5 Joiner | 3030-09997 | Per pair including pivot |
| SLZDL36/50/24×5 Joiner | 3030-07769 | Per pair including pivot |
| SLZDL36/60/32×5 Joiner | 3030-08196 | Per pair including pivot |
| SLZDL36/60/32×5 Joiner (4g) | 3030-10029 | Per pair including pivot |
| SLZDL36/60/32×6 Joiner | 3030-08197 | Per pair including pivot |
| SLZDL36/60/32×6 Joiner (4g) | 3030-10031 | Per pair including pivot |
| SLZDL40/60/20×6 Joiner | 3030-08400 | Per pair including pivot |
| SLZDL40/60/32×5 Joiner | 3030-09264 | Per pair including pivot |
| SLZDL40/60/32×5 Joiner (4g) | 3030-10578 | Per pair including pivot |
| SLZDL40/60/32×6 Joiner | 3030-08399 | Per pair including pivot |
| SLZDL42/50/24×5 Joiner | 3030-10856 | Per pair including pivot |
| SLZDL42/60/32×6 Joiner | 3030-09001 | Per pair including pivot |
| SLZDL45/60/32×6 Joiner | 3030-10665 | Per pair including pivot |
| SLZDL50/60/32×6 Joiner (4g) | 3030-10028 | Per pair including pivot |
| SLZDL60/60/20×6 Joiner | 3030-10963 | Per pair including pivot |
| SLZDL60/60/32×6 Joiner | 3030-10966 | Per pair including pivot |